Essay On My Idol Mother Teresa
Before you speak, it is necessary for you to listen, for God speaks in the silence of the heart . . . Mother Teresa
The 20th Century will in many ways be remembered as the century of images. Of utmost importance in this day and age is the image one projects to the world. Politicians obscure self-serving motives behind dazzling smiles and expensive haircuts. Super models hide anorexic bodies behind layers of makeup. Hollywood makes heroes out of decidedly un-heroic narcissists. One person, however, lived a life that was identical to the image the world had of her. This person was Mother Teresa of Calcutta, a woman who was celebrated worldwide as a saint and who lived a life that wholly justified this renown.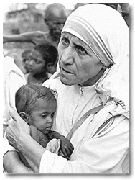 Mother Teresa was born in 1910 in war-wracked Albania to Catholic refugees. At the age of 19, she went to India to join the Sisters of Loreto, a missionary order of nuns. She served with the Sisters as a teacher for 20 years. At the age of 38, while traveling by train in India, she had a striking realization that her life's mission was to minister to the poorest of the poor. With the Pope's blessing, Mother Teresa descended into the slums of Calcutta, undoubtedly one of the poorest cities on the planet, and began the Sisters of Charity.
Under her direction, the Sisters of Charity ministered to the sick and hungry of Calcutta. Showering love and food on all who came to the mission's doorstep, Mother Teresa soon became a local celebrity. In 1969, a documentary chronicling her work in Calcutta was released. Overnight, Mother Teresa gained international prominence as a modern day saint.
With a rare combination of goodness and media savvy, Mother Teresa took advantage of her new-found recognition. She began giving speeches worldwide, helping to bring attention to the plight of the poor everywhere. In 1979, she was awarded the Nobel Peace Prize and her position as the world's greatest champion of the downtrodden was firmly established.
Towards the end of her life, Mother Teresa was a friend of kings and presidents worldwide. But it was with the poor that she chose to spend most of her time, traveling to war-torn areas such as Beirut and drought-stricken nations such as Ethiopia in her ongoing quest to find new persons in need of love and support.
Today, Mother Teresa's work is being carried on by the 3,000 + members of the Sisters of Charity. With missions worldwide, the Sisters of Charity minister to the poor on six continents, continuing the selfless legacy that Mother Teresa spent her long life establishing.
Extra Info
Many visitors to MY HERO have shared their thoughts about Mother Teresa.
K. McGrath from Roanoke, Virginia wrote:
Mother Teresa is my hero because she represented all that is good and holy in a world filled with pain and suffering. She replaced violence and disregard for human life with patience, kindness and stewardship. She was more than just a woman of great virtue and vision. She was truly a modern day saint whose holiness touched an entire world.
Rose from Cranberry writes that AGNES GONXHA BOJAXHIU (Mother Teresa) is her hero.
My hero is Mother Teresa because she always helped people and she never gave up. She never judged people or cared whether a person was hungry, homeless or had a disease. She would always find the time to help them. She would stop in the street to help a hungry or homeless person because she always wanted the best for everyone. What counted was what was inside a person, and she always saw the goodness there.
Agnes Gonxha Bojaxhiu was born on August 26, 1910 in Skopje, Macedonia, but she said that the day of her baptism was her real birthday. She was the youngest of three children and her father was an Albanian builder. When she was 18, she took the name Sister Teresa, in memory of Saint Teresa of Lisieux.
Mother Teresa was an honest and giving person. She would always give her time and love to someone who would need it the most. She would comfort the person during their hardest times.
I want to try to be like Mother Teresa. I want to help people and I want people to respect me and look up to me. I want to be the type of person she was, an Angel, a living Saint.
I have found the paradox, that if you love until it hurts, there can be no more hurt, only more love. -Mother Teresa-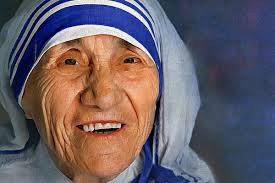 Mother Teresa Smiling (http://catholicfoodie.com/mother-teresa-of-calcutta-and-the-express-novena)
The traits of a hero need be are bravery, selflessness, humbleness, courage, and perseverance. The mistaken traits of a hero are often thought as the famous image of Superman. He contains supernatural abilities, he fights the bad guys, and is famous in the news and in the papers. Does the Image of Superman really show heroism? No, Superman in this sense does not display true valor. Mother Teresa on the other hand is a beautiful, and very meaningful image of heroism. Mother Teresa is a hero to me and many others because of her never ending perseverance, her generosity, her valor, her benevolence, and her humble nature.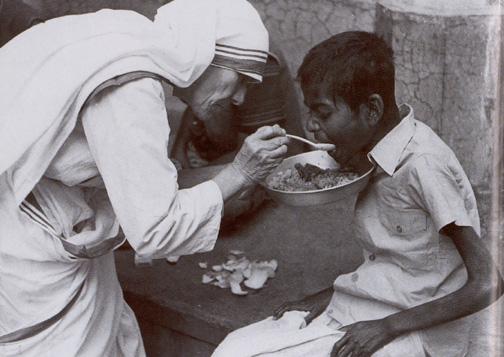 Mother Teresa gently feeding a child (http://www.helpinghands.lk/blog/mother-teresa/ (Helping Hands))
Mother Teresa was born circa August 26, 1910. Her Parents Nikola and Drana Bojaxhiu baptized their little girl as Agnes Gonxha Bojaxhiu. Their family were devout followers of Catholicism. Mother Teresa's father was involved in the local church as well as in city politics as a vocal proponent of Albanian independence, and her mother, Drana, was a compassionate and devout woman who was extremely generous in charity. In 1919 Nikola Bojaxhiu suddenly died of illness. Mother Teresa grew very close to her mother who always told her daughter to be charitable to everyone no matter what. Drana told her "My child, never eat a single mouthful unless you are sharing it with others," and that is exactly what Mother Teresa did. In 1928 Agnes Gonxha Bojaxhiu moved on to become a nun of the Loreto Sisters of Dublin, in this nunnery she took the name Sister Mary Teresa after Saint Therese of Lisieux. In 1929 she went to Darjeeling, India for the novitiate period. In 1931 she took her First Profession of Vows. She was then sent to Calcutta to a school run by the Loreto Sisters that was dedicated to teaching young girls from the poorest families in Bengali. She was a teacher of history and geography with a zealous attitude to alleviate the poverty of these young girls through a proper education.
"There is always the danger that we may just do the work for the sake of the work. This is where the respect and the love and the devotion come in- that we do it to God, to Christ, and that's why we try to do it as beautifully as possible." Mother Teresa certainly did her work devoted to Christ and the people.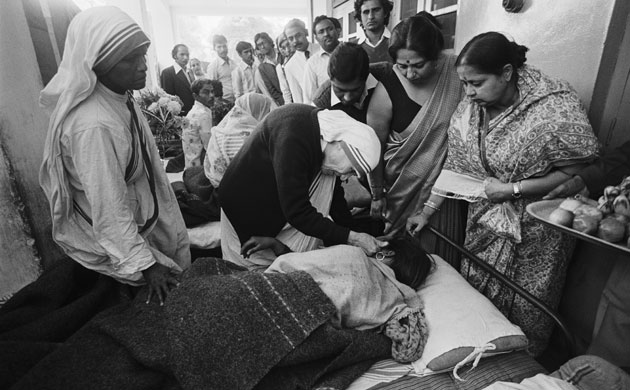 Mother Teresa caring for the sick and needy (http://pixgood.com/mother-teresa-with-the-poor.htm (pixgood.com))
One day on a train ride Mother Teresa had a vision of Jesus Christ. He said unto her "I want Indian Nuns, Missionaries of Charity, who would be my fire of love amongst the poor, the sick, the dying and the little children," It was not possible for her to obey Christ's command without official permission from her convent because she took a vow of obedience. In January 1948 after about a little more than a year of lobbying she was finally released to go and obey the words of Jesus Christ. In August of that same year she left the Loreto Convent to pursue her calling, and out into the city. She was wearing her blue and white sari that would remain on her body for the rest of her life. After six months of basic medical training, she went to the slums of Calcutta. She had no specific ambition to achieve her calling. All Mother Teresa had was the goal to be the "fire of love amongst the poor, the sick, the dying and the little children,"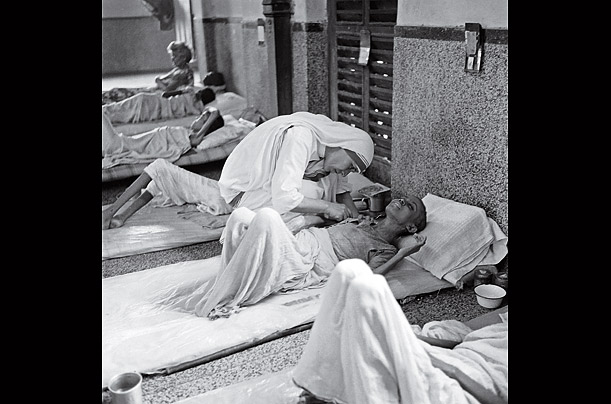 Mother Teresa helping a sickly child (http://catholicinbrooklyn.blogspot.com/2013/03/med (Catholic in Brooklyn ))
She started an "an open-air school and established a home for the dying destitute in a dilapidated building she convinced the city government to donate to her cause." as said by www.biography.com. Between 1950 to the late 1960's she created a family clinic, a string of mobile health clinics, a leper colony, a nursing home, and an orphanage. She created an organization called the Missionaries of Charity in 1950 and won canonical recognition. She founded this organization with members of her former pupils/teachers from St. Mary's School and a few others. In total there were twelve members. During 1982 in the summer she secretly helped aid children of both faiths in Beirut, Lebanon, of the Muslims in the West and the Christians in the East. She also created Gift of Love, a safe haven and a home to those infected with HIV/AIDS. Mother Teresa began expanding internationally after Pope Paul VI bestowed upon her organization, the Missionaries of Charity, the Decree of Praise. Mother Teresa was granted multiple awards and honors. She received the now defunct Soviet Union's Gold Medal of the Soviet Peace Committee, the Jewel of India, the highest honor bestowed upon Indian civilians, and she also received the Nobel Peace Prize, her highest honor, which recognized her work "in bringing help to suffering humanity"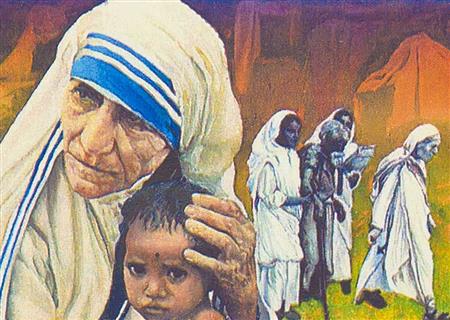 an art piece of mother Teresa cradling a child (http://www.pitara.com/non-fiction-for-kids/biograp (pitara))
In her life she always stayed humble despite all of the things she had done for charity and the publicity she received. She said that "By blood, I am Albanian. By citizenship, an Indian. By faith, I am a Catholic nun. As to my calling, I belong to the world. As to my heart, I belong entirely to the Heart of Jesus." She lived by her word and never spent a moment of her life without sharing her material things as well as her spiritual insights. "Love is not patronizing and charity isn't about pity, it is about love. Charity and love are the same -- with charity you give love, so don't just give money but reach out your hand instead," Mother Teresa stated. She is simply an amazing women of God who followed him throughout her life and tried every day to display the example of Jesus Christ, she continuously gave everything she had to help "the unwanted, the unloved, the uncared for."

I believe that every human, every person in this broken and destitute world, take her life by example. Mother Teresa didn't mean much to me in the beginning because i didn't know who she was. Yes, her name sounded familiar but vague all the same. When i started to research her and i learned more about her undying commitment to charity, and her everlasting love for people, that's when i knew I chose the right person. How many times in Life do we walk by the homeless and the unloved? How many times do we choose not to intervene with the broken people in our lives, in the world? Mother Teresa was one of the few people that rose against the negativity and and the impossible, and changed it to the beautiful, and the achievable. Why don't we the people change the life of someone else? Like Mother Teresa said, "If you can't feed a hundred people, then feed just one." All it takes is a smile, a thoughtful word, something anything to help that person to know that someone cares for them, that they are not alone in the world and that they were not forgotten. The world needs love and the world needs hope, so let us take a stand against the cruelties and the evils of the world, and spread the light of God and his Majestic and Loving spirit to all humanity.
Page created on 12/21/2014 12:00:00 AM
Last edited 12/21/2014 12:00:00 AM

Related Links
Extra Info
If you're are looking for a more detailed biography/ autobiography, or a website that talks more of Mother Teresa read these
Mother Teresa: an Authorized Biography (book)
Mother Teresa: No Greater Love (book)
Mother Teresa: Come Be My Light: The Private Writings of the Saint of Calcutta (book)
http://www.motherteresa.org/ (web)
http://www.catholic.org/clife/teresa/ (web)